In the irreverent spirit of fun that made "The LEGO® Movie" a worldwide phenomenon, the self-described leading man of that ensemble – LEGO Batman – stars in his own big-screen adventure. But there are big changes brewing in Gotham, and if he wants to save the city from The Joker's hostile takeover, Batman may have to drop the lone vigilante thing, try to work with others and maybe, just maybe, learn to lighten up.
Grab your partner in crime and make a date to see #LEGOBatmanMovie – in theaters FRIDAY

LEGO + Batman = Genius' over at Warner Bros. Animation!  You can't go wrong with these two!  The all new LEGO Batman Movie hits theaters this Friday, February 10 and trust me when I tell you a good time will be had by all.  LBM is more than a family movie, it's a community movie.  The timing couldn't be better.  We were able to screen The LEGO Batman Movie and have a face-to-face chat with its super cool female co-star Rosario Dawson and she shared insight about her character Barbara Gordon AKA Batgirl!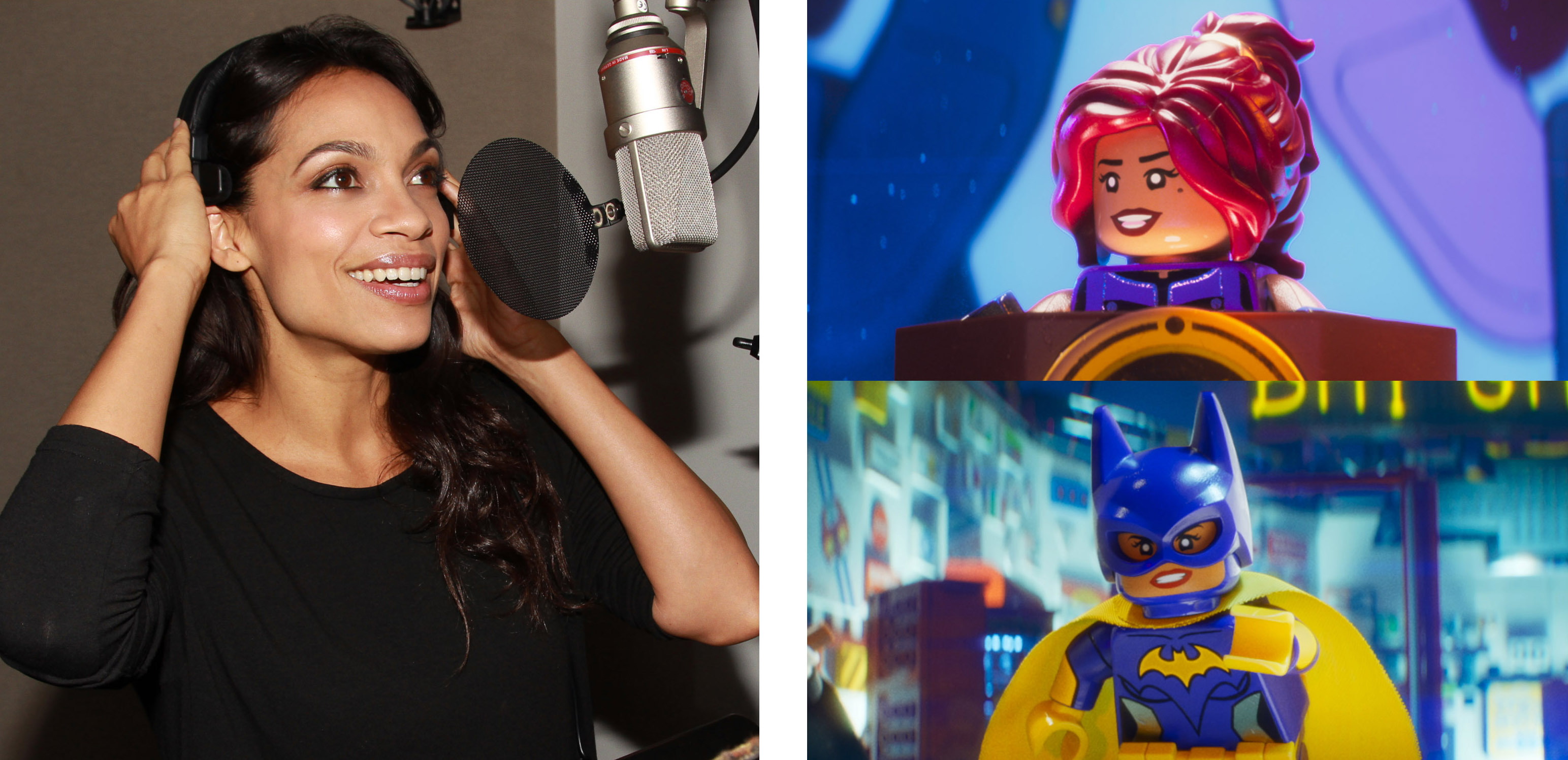 Rosario grew up being familiar with comic book characters.  She was a pretty normal kid and like most a huge fan of Batman comics and the movie franchise.  She was also influenced by her uncle who worked as a comic book artist.  The one thing she never planned on was becoming Batgirl!  It was surreal for her.
On becoming Barbara Gordon/Batgirl Rosario said "it's definitely flattering and it's really lovely to see this young woman who's so inspired that she wants to emulate these incredible men in her life, but it's also really powerful and dynamic to then see those same men being moved and challenged and pushed by that same woman who takes what they taught her and adds something even more to it.  And it's just beautiful to see that evolution."

Filming The LEGO Batman Movie stretched over a couple of years and several versions of the characters were recorded.  It was during the LA
premiere that Rosario saw for the first time, the footage that had actually been selected.  She loved the version of her character; she
felt that Ms. Gordon was not trying to be Batman, and she wasn't trying to be her father Commissioner Gordon.  She's trying to be the version of herself and it's beautiful to see what her contribution is.  I think that's where that confidence comes from, because she's someone who knows her purpose."
​
Ms. Dawson told us that she and Will Arnett recorded all of their voiceovers at different times because the one day that she was with him, he put on THE VOICE [Batman]- and she knew right then that they'd have to be separated to be able to get anything done.   No need to explain here, we all understand!  They had a fun and charming chemistry together.
The LEGO Batman Movie opens this Friday, February 10 in theaters nationwide!  This movie shows the truth in the old saying that it takes a village. There are lots of laughs and life lessons here, so you may want to even see it twice.  We won't tell…in fact we are going to see it again on opening day too!!  Yep, it's just that good.  Enjoy!!
**Thank you Warner Bros. for the invitation to an advance screening and press conference interview.**
Visit the Official Website
*Disclosure:  I was invited to screen and interview The LEGO Batman Movie and cast.  No monetary compensation was given.  Opinions expressed are honest and my own.*
Please follow and like us: